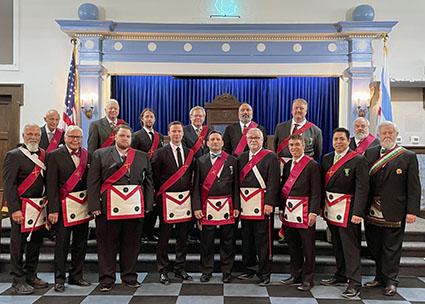 Above: The cousins of St. Bridget Council on 2 October 2021,
following the conferral of the degrees.
Mailing address
All correspondence must be transmitted through the Scribe:
SAINT BRIDGET COUNCIL NO 23
C/O TERRY W MCCAMMON MEPGC
1715 HIGHLAND AVE
WILMETTE IL 60091-2411
Next meeting
Thursday, 23 June 2022, at 7:00 p.m. Annual donnybrook. Cousins only.
As is our summer tradition, we will gather at Cousin Mike Marr's own Buffalo Creek Brewing, located at 360 Historical Lane, in Long Grove.
Dress is respectable casual.
Reservations are strictly required. RSVP to our Scribe, Cousin Terry W. McCammon, MEPGC.
You do not need to tell Terry if you are not coming; neither does he need to know what you are going to order. Be prepared to pay our treasurer.
The principal business will be the reading of, and voting on, recommendations of Holy Royal Arch Masons to receive the degrees of Knight Masonry in October.
Details to follow.
Cousins only.
Knightly News
Read the latest Knightly News, the official newsletter of the Grand Council of Knight Masons of the United States of America.