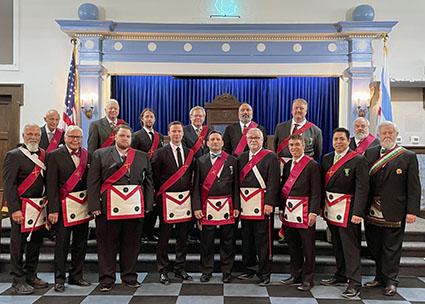 Above: The cousins of St. Bridget Council on 2 October 2021,
following the conferral of the degrees.
Mailing address
All correspondence must be transmitted through the Scribe:
SAINT BRIDGET COUNCIL NO 23
C/O TERRY W MCCAMMON MEPGC
1715 HIGHLAND AVE
WILMETTE IL 60091-2411
Next meeting
Saturday, 1 October 2022, at 1:30 p.m. Annual conferral of the degrees of Knight Masonry. Cousins only.
The degrees will be conferred at Jefferson Park Masonic Temple, located at 5418 West Gale Street, in Chicago. Arrive by 1:30 p.m.; degrees start at 2:00 p.m.
We will dine after the degrees, at a place to be determined. We are looking at a few alternatives. Details to come.
Dress is business suit, dress shirt (preferably white), necktie (preferably green, red [for past chiefs], or KM striped), shined shoes, socks.
Plan to attend and support our new cousins as they join our ranks.
We will thereafter dine at RoccoVinos, located at 4747 North Harlem Avenue, Harwood Heights.
Cousins only.
Knightly News
Read the latest Knightly News, the official newsletter of the Grand Council of Knight Masons of the United States of America.