Welcome to Illinois York Rite College No. 15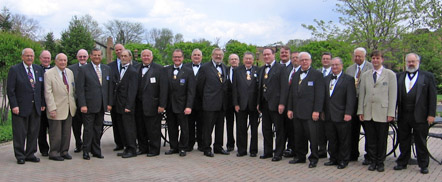 Assisting the York Rite
On Saturday, 31 May, Illinois York Rite College No. 15 assisted Mizpah Commandery No. 53 during their chivalric festival. We exemplified the Illustrious Order of the Red Cross and the Order of Malta. Mizpah Commandery then conferred the Order of the Temple. Click here to read more.
On 10 May 2014, Illinois York Rite College No. 15 assisted the grand York Rite bodies of Illinois to host a York Rite festival in Glenview, during which all capitular and cryptic degrees and chivalric orders were exemplified. The event was a rousing success. Thanks to all companions who participated.
Society of Past Masters team needs your help
Our Society of Past Masters team recently and reluctantly cancelled a scheduled presentation. Unfortunately, due to different circumstances, four members of our team had to cancel … something from which we could not recover as we currently only have two alternate cast members.
Our current team has built a significant feeling of camaraderie through our presentations thus far … we are having a great time working together as a team. It is enjoyable work as we know our objectives are viable and well worth the time we dedicate to seeing them done with enthusiasm; so it is not tedium by any stretch.
What we are working toward: We have defined a key brand niche of the York Rite College as demonstrating the innovative and creative excellence of the members of our College through such programs. This underscores the need for more members of our college to actively volunteer participation in near term future activities as we have two current presentations and possibly one, two, or more we are working toward in the near future.
Working together as a team builds camaraderie and is one of the building blocks of fraternalism; that for which many of us joined Masonry in the first place. Please reflect on these things and consider volunteering some of your time to one of our cutting edge initiatives.
Next assemblies
TBA, Things are up in the proverbial air, as to be expected.
Contact

All correspondence must be transmitted through the Secretary:
IL YORK RITE COLLEGE NO 15
C/O: VALLEY OF CHICAGO
383 E LAKE ST
BLOOMINGDALE IL 60108-1191
email: Lee Bradley
Welcome new knights
On Thursday, 29 October 2015, we conferred the degree of Knight of York upon five new members of the college.
York Rite Crusader
Click here to read the latest issue of the York Rite Crusader, the official publication of the York Rite Sovereign College of North America (YRSCNA).