Welcome to Illinois York Rite College No. 15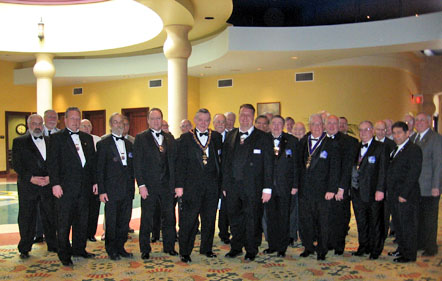 Above: Our knights welcome our new Preeminent Governor, William E. Carlton, at our annual meeting. The meeting was held at Medinah Shrine Centre on Saturday, 4 May 2013.
Please click here to see a list of our officers for 2012-2013.
Revised by-laws
Illinois York Rite College approved by-law amendments in March 2012. Read the revised version here. Note, this version is tentative, pending approval by the Governor General.
Next Meeting
The next stated meeting of the college will be held on Saturday, 28 September 2013, at Mont Clare Masonic Temple, located at 6910 West Grand Avenue, in Chicago. Dress for this meeting will be casual. Breakfast will be held at 9:00 a.m., with a quick business meeting to follow at 10:00, before we get down to work with an 11:00 a.m. rehearsal for the Knight of York degree.
Submit the names of membership nominees to Dwaine Churma so that we can vote on them at the meeting. The recommendation form is available at the Sovereign York Rite College of North America's website.
Material Needed for the Website
Welcome to our new website. As you look around, you will note that many pages have a dearth of information and imagery. Especially needed are things concerning the history of Illinois College. Please send photographs, scans and write-ups to Dave Miley, our webmaster. Thank you.
Mailing Address
All correspondence must be transmitted through the Secretary:
IL YORK RITE COLLEGE NO 15
C/O: SECRETARY
308 MONTEREY DR
BOLINGBROOK IL 60440-2047
Email: Dwaine A. Churma, Secretary