History of Illinois York Rite College No. 15
Pending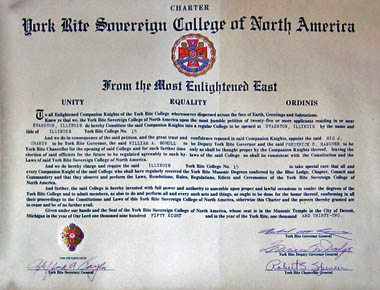 Illinois York Rite College No. 15 was chartered on 21 May 1958 in Chicago.

Our history since that time is now being assembled and we hope to present it presently.

"Illinois College No. 15 Members save a Cryptic Council"

(originally appeared in

York Rite Crusader

, Vol. XLVI, No. 2 (Spring 2011) at 6)

In fulfilment of their mission to assist and support the York Rite bodies, members of Illinois College No. 15 worked together over a period of two years to restore and relocate a dormant council of Cryptic Masons from the Windy City to a new home in the suburbs.

Adoniram Council No. 95, chartered in 1912, had originally met in downtown Chicago. However, they had lost their meeting place to a sale of the temple. Many members had passed away, and most officers had become inactive. With little paraphernalia and its records in storage, the council had ceased to meet.

Not wishing to see yet another York Rite body surrender its charter, a small group from Illinois College No. 15 decided to try to salvage the council. Officers included Bradley L. Baker, OPC, Jack D. Chasteen, DSA, Alan M. Hubble, James W. Patton, OPC, and Paul A Scheeler.

Preeminent Governor Richard E. Yena, OPC, served as council's recorder during the transition period, while the council met with a then-daylight Royal Arch chapter at a suburban temple. Also providing support was Richard T. Carnall, OPC, then Grand Master of the Grand Council of Cryptic Masons of the State of Illinois.

With its records squared away, Adoniram Council began looking for a more permanent location. They found a group of interested Royal Arch companions at Euclid Chapter No. 13 in nearby Naperville. Euclid's members were eager to bring an evening Cryptic Council to their temple, where only a lodge and chapter had met since the mid-1800s.

Nearly six months after its relocation, Adoniram Council has attracted additional members, installed new officers, and is acquiring paraphernalia for conferring the Cryptic Degrees using its own members and officers. Andrew B. Siedelmann, also a member of Illinois College, helped organise and transfer the council's finances.

"It was gratifying to help preserve a nearly century-old cryptic council," said Preeminent Governor Yena. "We expect to assist them with degrees and anticipate obtaining even more new members for our college going forward, so this effort has turned into a win-win for the whole York Rite."